Sometimes the old language, as with AGLE, describes the new situation best
Source: dhakatribune.com/financial-markets/2023/06/23/aeglea-biotherapeutics-up-328-call-this-what-it-is-a-reverse-takeover-by-spyre
By: Tribune Desk - Published: June 23, 2023 9:31 AM
Aeglea Biotherapeutics (NASDAQ: AGLE) stock is up 328% on the news that they've taken over Spyre. Well, OK, that's what they have done so that reporting is fair enough. But we'd get far further in understanding what's going on here if we used rather older language to describe the transaction. This is, really, a reverse takeover. Or even, a merger into a quoted shell. Actually, it's the sort of thing that SPACs were mimicking and were rather thought to have replaced. One amusement of this could be that we're seeing that the SPAC craze has run its course.
So, the actual deal is: "Aeglea BioTherapeutics (NASDAQ:AGLE) is acquiring privately held Spyre Therapeutics." Well, legally, yes. But also: "Aeglea (AGLE) also entered an agreement for a PIPE investment to raise $210M in which investors will be given 721,452 shares of Series A preferred stock (721,452,000 on an as-converted-to-common basis) at a price of $291.08 per share (or $0.29108 per share on an as-converted-to-common basis)." so, legally, yes, Aeglea has bought Spyre. But at the same time investors have bought $210 million of stock in something that was only worth $6 million before that. Plus there's the new stock usance to the previous shareholders of Spyre.
The truth being that Aeglea was worrying about even being a going concern. Just about the only thing that it had of any value was that NASDAQ quotation. It's hugely more true to say that Spyre and investors have just taken over Aeglea for that quotation.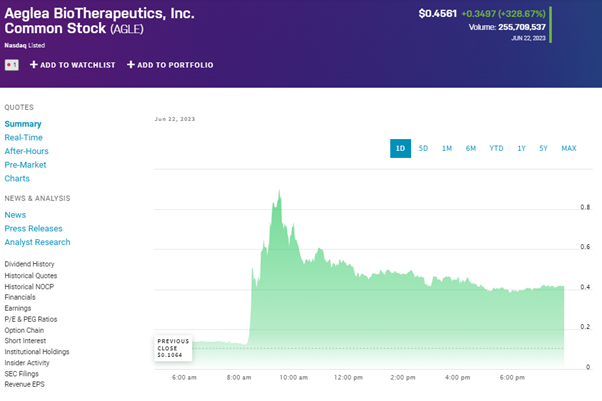 Aeglea Biotherapeutics stock price from NASDAQ
Who ends up with near all the equity here? The former Spyre shareholders and the new investors. So, it's them taking over the Aeglea quotation more than anything else. This makes Aeglea - before today - into one of our traditional shell companies. And that then makes this, again in the old language, a reverse takeover by Spyre and investors. They get to come to market without having to go through months of painful legal and accounting work and at a rather lower cost than a bank would charge for an IPO.
However, this was exactly what SPACs were supposed to do. Be simply a quotation and a pile of cash which private companies could merge into - getting their quotation faster and cheaper. So, why not come to market via a SPAC for Spyre?
Which is the thing we think truly interesting here. There are hundreds of SPACs out there on the market already, they're all looking for a decent merger partner. In fact there are many more SPACs than there are decent merger partners. We have to assume that Spyre is because note that there's that $210 million new money coming in as a PIPE investment. So, our first and obvious take on this is that if people are going back to those old methods - the reverse takeover of a quoted shell - then the bloom has very definitely come off the new method meant to replace that, the SPAC.